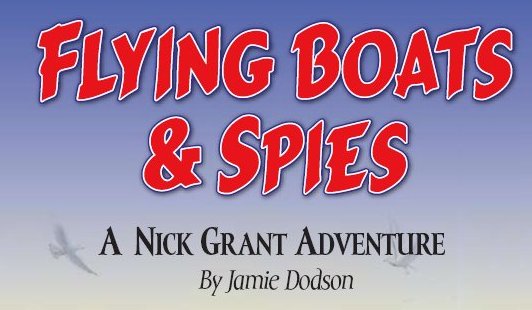 Advance Praise
---
"Delightful! Flying Boats & Spies is a welcome return to a glamorous age of high-adventure and heroes--and a tribute to the grand-adventure series of yesteryear. Rollicking and great fun, this well-told tale of international intrigue should appeal to every generation in a family. I look forward to future volumes in this series."

Ralph Peters, author of Wars Of Blood And Faith
"Flying Boats and Spies is a marvelous tale of the men and women who pioneered the sky during an adventurous era. Dodson takes his readers back to those great, old days when aviation was young and nothing seemed impossible. Reading Flying Boats and Spies made me feel like a boy all over again."
Homer Hickam, author of Rocket Boys/October Sky and The Ambassador's Son
In Nick Grant, the reader gets a taste of Mickey Spillane, a young Chuck Yeager, and Charlie Chan, all rolled into one. But a gripping climax reveals the true Nick--a memorable hero in his own right. A fun read for lovers of adventure and international intrigue!
Susan Rosson Spain, Author of THE DEEP CUT, a 2006 Marshall Cavendish Award Winner, www.susanspain.com
"Flying Boats and Spies nails it! I have sailed those waters, lived some of Nick Grant's adventures, and shared the very skies he flew. Jamie Dodson got it all right with a page-turning story that took me back to my youth and Pacific adventures that others only dream about. Grab this book before someone else does. And bring shark repellent… you'll forget it's not you in the book."
Austin Boyd, Navy pilot and submarine hunter, award-winning novelist, and author of the Mars Hill Classified trilogy
"'Return with us now to those thrilling days of yesteryear...' Flying Boats and Spies pays stirring tribute to the classic adventurers of the impossibly romantic pre-World War II period, adding depth, realism, and charm in liberal measure."
Michael Dobson, (no relation) co-author of Fox on the Rhine and MacArthur's War.
"FLYING BOATS & SPIES is a terrific read! It is a compelling story with engaging fictional and historical characters who take us into the emerging Pacific war. Japanese spies challenge American's vital interests as Nick Grant's adventures plunge the reader into the world of international espionage. Dodson's use of the historical Pan American Clipper setting provides exceptional realism."
Annie Laura Smith, Author of The Legacy of Bletchley Park, Will Paris Burn, and Saving Da Vinci, a World War II trilogy for young readers.
"FLYING BOATS AND SPIES is a fast-paced, edge-of-your-seat read. Dodson's knowledge of aviation technology is undeniable, but presented in a way that even a novice can understand. The mystery and espionage are thrilling. Nick Grant is the quintessential all-American boy. Guys will want to be Nick Grant, and girls will fall in love with him."
C. M. Fleming, Author of FINDER'S MAGIC
"In writing Flying Boats & Spies, Jamie Dodson has achieved the three greats in a mystery, suspense, intriguing settings, and a witty main character. A great read for all ages."
Mary Ann Taylor author of the Gander's Cove mystery series: Spies, Traitors, & Heroes www.maryanntaylor.com
"Flying Boats and Spies is a rollicking good story. With starling clarity, Dodson portrays the indomitable spirit of youthful American visionaries. Despite the great depression, they made American entrepreneurs the envy of the world."
Louis Stannard, author of China Diaries and retired Pan American Clipper Pilot.
"Flying Boats and Spies takes us back to the 1930's and early days of mail and passenger flight beyond the continental United States. Dodson combines Pan American Airways' pioneering efforts to cross the vast Pacific, with the intrigue of the Japanese spies trying to destroy it. Nick finds action and romance and quickly grows up as the fulcrum of Pan Am's success. Readers of all ages will enjoy this action packed drama set in a remarkably accurate historical background".
Joseph Connaughton, author of Colonel Randy's Flying Circus," Aviation History, USAF 50th Anniversary Edition.
"Flying Boats & Spies is well written and, packed with adventure. Jamie Dodson combined world history, skullduggery, and espionage seamlessly. The intended audience is young adult, but older readers may find the book hard to put down. The story has a thread of morality that weaves its way throughout the adventure with a subtle lesson for all. The reader yearns for the next Nick Grant adventure."
Rev. Evan G. Butterbrodt, Renowned Flying Boat Pilot, MS Flight Sim, Minister, author, and newspaper columnist, from Horseshoe Bend, Arkansas
"There I was, Nick Grant, immersed in a vibrant, exciting heart pounding adventure meeting persons, places and events of history at the turn of every page. We can only hope that the last page of Flying Boats & Spies is the beginning of the next and more Nick Grant adventures. Thanks Jamie for the thrilling read!"
The real Nick Grant, Brigadier General Retired, Pilot and Intelligence Officer
More reviews here:

Here:

And Here:

---
Created on ... February 11, 2007
Updated on ... November 11, 2009
Copyright 2007 - 2008 by Jamie Dodson, All Rights Reserved